Don't Labor Over Your Home,
Enjoy It
Exhale is the modern solution successful people utilize for holistic home maintenance and value improvement of their biggest asset.
The Old Way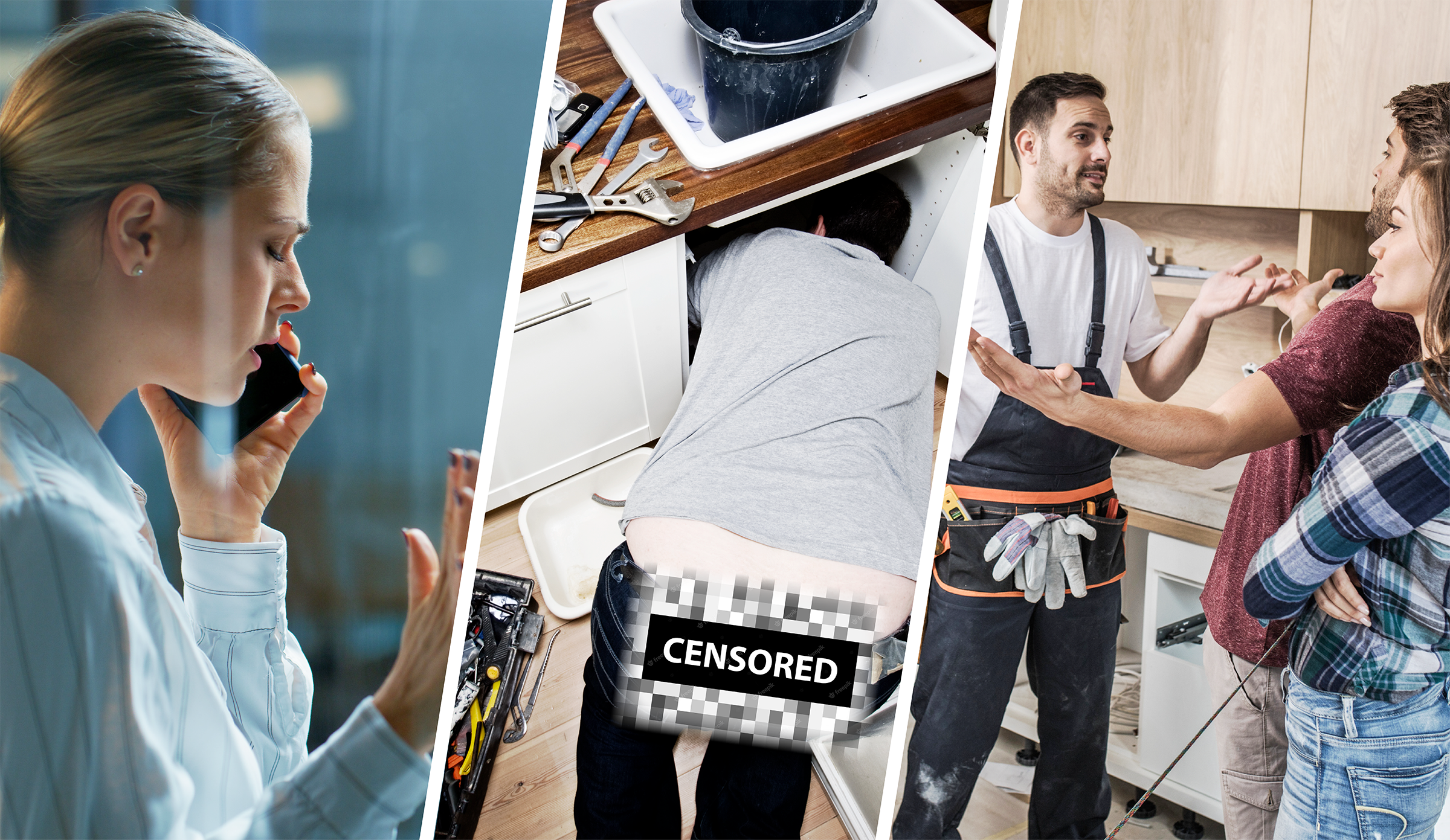 Waiting until something breaks to fix it and ignoring seen and unseen issues
Investing in your home for someone else to enjoy
Sketchy dudes and flaky response times
Money wasted on shoddy craftsmanship
The Exhale Way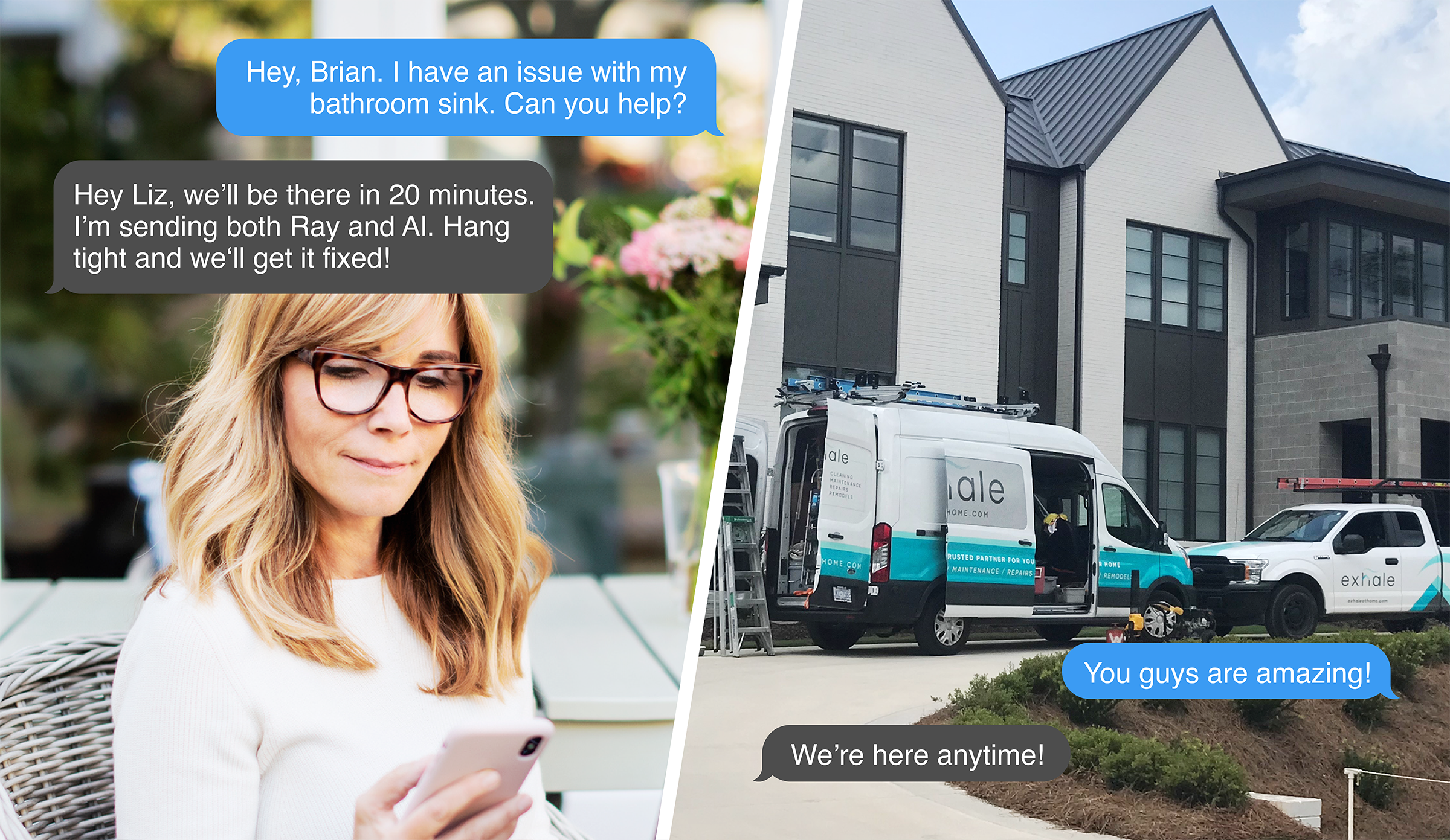 Better than insurance, we stop problems before they start
Single point of contact for everything in and around your home
Top-tier, certified pro networks: say good-bye to plumber cracks and no callbacks!
Comprehensive maintenance covers plumbing, HVAC, electrical, and other areas of your home to keep things running safe and smooth
How Our Membership Works
As an Exhale member, you'll be provided with a dedicated Home Manager and Handyman. These two act as partners in getting to know your home personally, so they can provide you with the best possible service and care.
Home Manager
Your Home Manager will act as your one point-of-contact for all recurring maintenance, on-demand services and emergencies. No more scouring online reviews or waiting months for a booked-out service provider to fix an issue you need solved today.
Handyman On-Demand
Your Handyman serves as your trusted service pro for basic maintenance, repairs, and light construction.
Our membership has two main components: proactive maintenance and on-demand services. Based on your home's needs, we'll develop a customized 12-month proactive maintenance plan and budget to take care of your recurring home care. Meanwhile, a monthly membership fee gives you access to our in-house pros and highly vetted service provider network for all your on-demand and emergency needs.
Maintenance Plan
Recurring cleaning + inspections + maintenance
12-months of recurring maintenance is scheduled and put on autopilot
We'll work together to create a customized plan that's priced upfront and billed monthly
Your plan can be modified and updated as needed
On-Demand Services
Repairs + improvements + punch list items
Simply contact your Home Manager any time you need help
We'll provide an estimate for you to approve digitally
Once approved, we'll schedule and complete the work, billing you only after the job is done to your complete satisfaction
Becoming a Member
Ready to begin? We recognize that every home is unique, and a one-size-fits-all approach simply won't do. That's why a custom solution is vital—it ensures that your home receives the specific care and attention it deserves, tailored just for you.
One-on-One Consultation
It's crucial to thoroughly qualify your home and understand its unique requirements. Whether through a phone call, video chat, or an in-person meeting, we make it our priority to truly get to know you and the specific needs of your home.
360° Home Review
Our home review process provides an essential 360-degree assessment of your home, meticulously cataloging and evaluating every aspect. The result is a comprehensive report that not only forms the basis for a robust maintenance plan but also emphasizes the prioritization of critical repairs.
Exhale Home Care Proposal
We'll propose a customized maintenance plan for your home. Once approved, we'll take care of the rest; your home maintenance on autopilot!
Get Started with a Consultation Today
What Your Exhale Membership Includes
Your Expert Home Manager
No need to coordinate services, negotiate with service providers or explain the quirks of your home to someone new.
On-Demand Access to Handymen
Access to our best-in-class in-house service pros for basic repairs, handyman work, and light construction.
24/7 Emergency Assistance Access
Your Home Manager is available at anytime and reach them however you like: call, text, or email.
Top-Tier Certified Pro Network
We only work with world-class Pros that survive our 7-step vetting process and no need for you to manage our Pros.
Home Guardian
Whether you can't be home for a service or you're away on vacation, we watch over your home at all times to ensure everything is as it should be.
Weekly Home Report
Exhale provides a weekly home care report, packed with detailed insights, ensuring homeowners always feel connected and updated about every nook and cranny of their property.
Frequently Asked Questions
How do I become an Exhale member?

The membership process starts with an Inhale Consult over a phone call, Zoom or an in-person meeting.

First, set up a short consultation meeting with one of our Membership Consultants. From there, we'll schedule an in-person Home Review to get to know you and your home personally before curating a customized Membership Proposal for you. Once you're happy with the Membership Proposal, we'll sign you up as an official Exhale Member, put recurring maintenance services on autopilot and address any on-demand projects on your list.

How much does Exhale cost?

An Exhale membership is $199/month.

Services are all priced separately: recurring maintenance services are customized and priced upfront, with on-demand projects estimated as they are requested.

What if I want to keep some of the subcontractors I already use? Do I need to use your team?

It's completely your choice.

You're welcome to continue using existing service providers in addition to Exhale. We're happy to take over management of your preferred contractors and providers, or you can continue to manage their services separately. While we can and will handle everything for your home, you're not obligated to use our team for every type of service.
You have assembled a terrific team. They are responsive, professional, and great at their jobs. We are happy we decided to join the Exhale program."
Tiffany
Exhale Member Since 2021
read more
About Exhale
We started Exhale so you can have a trusted expert and partner who puts your home at the top of the list—someone who's there to answer your call for any home service need and shows up with your best interests in mind.
Meet Exhale